Jun7
After my rant on iTunes's failings the other day I was driven to find a superior solution. I didn't know if I would find what I was looking for, but I am very glad that I did!
My first foray was amongst the alternative library software, I looked at half a dozen alternatives, but Media Monkey came out tops. It has everything iTunes has and more!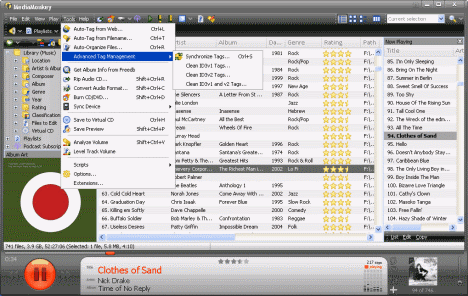 The interface is more intuitive than iTunes, with nodes that can display your library filtered by a just about any combination of tag information. One particular node I particularly like is the 'Files to Edit' node where you can display tracks without Artist, Album, Year, etc tag and correct them on the fly.
It's tagging tools are fantastic and the auto-tag facility will find the tracks within Amazon's library and grab all the info & album art and apply it to the file (or to multiple files). With the Album Art, formats such as FLAC where the album art can't be injected into the file itself, it will place the image in the folder where most libraries will find it anyway.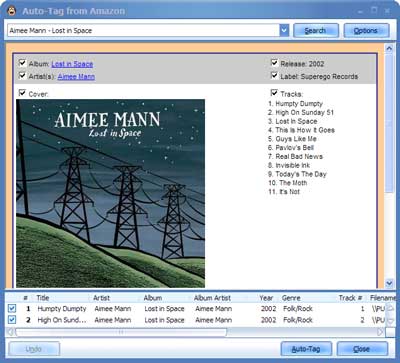 You can monitor a drive or a group of folders for new files so that new tracks just dumped in that drive will be picked up as soon as you next launch Media Monkey, and if you aren't going try the Rockbox firmware I will talk of in a second, it will rip tracks to mp3 (you can specify bit-rate etc) on-the-fly as they are added to ipod if they are of an unsupported format such as FLAC.
It really is the most well thought out comprehensive piece of software I have tried in a long time and beats iTunes hands down in every department. Best of all it's Free and I can't recommend it highly enough. Fantastic Work!
So having discovered my new media-library nirvana, I was feeling a bit more adventurous and tried find anything that would hack the ipod for wider format support. Alas nothing existed that would do so within the current ipod firmware. However, I was lead to the Rockbox firmware replacement, which works for numerous players, including just about all the ipods including my Nano.
It's an open source project with great support. The features that drew me to this rather drastic nuking of my iPod were:
Wide range of codec support – MP3, Ogg Vorbis, Musepack, FLAC, AAC, ALAC, AC3 and WavPack
Additional music playback features include gapless and crossfading, as well as a five-band parametric equalizer to fine-tune sound output
iPods also get ReplayGain support for volume level normalization
A large number of plugins, including games, applications, and "demos". There is even Doom!
On-The-Go playlist creation and adjustment, full file bookmarking support
Lots of applications developed, or in development, such as a text viewer, paint application and other nice utilities that really add functionality outside of the music sphere.
Customisable and Downloadable Themes
It seemed too good to be true, but I can now vouch that everything it promises works and works well!

FLAC playback is perfect, the sheer number of options for fine tuning the sound to the exact way you want it is staggering (5 band equalizer, crossfeed/fade, etc). The applications work, gapless playback is great for those who like mixed dance compilations, volume normalization seemed much better than iTunes/Apple Firmware, it will even make your iPod talk to you!!! (Developed with blind users in mind!).
I have run Rockbox for 2 full days now and I haven't missed a single thing from the standard Apple firmware, it's been rock stable and even in those 2 days of solid use I am sure I haven't found all the toys to play with!
There is only one little issue with Rockbox, battery life is about 1/2 as long. However they are aware of it and say it has been the same with all the other players (such as iRiver and Archos devices) and they have fixed it over time. They didn't actually crack the ipod well enough to play sound until a few months ago so these builds are still early. Yet there is a new build nearly every day and I still found the battery life long enough to last me through a full day of work (constant play from approx 8am through to 4pm) at which point I always hook it back up when I get home so it wasn't an issue for me. Just be aware of it if taking it on a long trip or something.
Installation is reasonably straightforward and a good guide is provided.
What can I say… My iPod nano is the device it should have been and my library management has never been easier. It's a perfect combination and I can't imagine I will return to iTunes or the standard apple firmware unless they make some very dramatic improvements. The bar has been set by the open source community and Apple need to raise their game a long way to reach it!
No related posts.